Posted in Accessories by Jon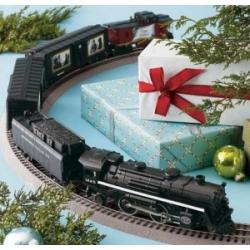 There is nothing more delightful than the sound of your Christmas Tree Train Set train, tooting its horn as it winds its way around your Christmas tree and presents, billowing smoke on Christmas morning.
A Christmas Tree Train Set is a must for anyone who loves to get into the festive spirit of Christmas and will take center stage of any decorations you put in place.
You will be amazed at how awe struck and captivated both children and adults alike will be, it will be the envy of all your friends.
Whether you decide upon a cheaper, simple around the tree set, or a more serious Christmas themed train set such as the Polar Express, you really cant go wrong.
Most Popular Gifts
Recent Posts
Spotlight
Categories
Pages
Spotlight 2