New Nickelodeon Bubble Guppies Plush Dolls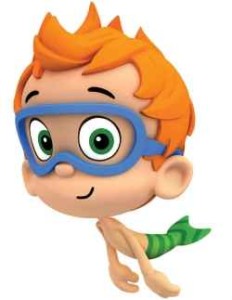 The Nickelodeon Plush Bubble Guppies are a massive hit with kids, and its no wonder why! they are so adorable!
So you can just imagine the delight on your children's (recommend for 3 years and up) faces when you give them gift of their very own plush Bubble Guppy character.
Currently there are 3 Characters available as a plush toy, they are Gil, Molly and Bubble Puppy, with more set to be released soon.
There also a number of other products, such as books, charms, sticker books and dvd's available, that will equally thrill your children.
Whilst any time of the year is a good time to purchase a Plush Bubble Guppy or Guppies for your child, Christmas 2012, sees the Plush Guppies being the most sort after gift for kids over 3 years of age.
Nickelodeon Plush Bubble Guppies Molly
Molly is the other co-host (along with Gil) of the Bubble Guppies, she also is without a doubt their leader.
Molly loves to sing has pink hair, brown eyes, a blue bikini top, and a light blue, soft, wiggly tail.
The plush Molly, stands about 9 Inches tall and is super soft, perfect for some Guppy cuddling!, the Guppy fan in your house will simply adore her!
Just What Are They?
The Bubble Guppies are characters in the Nickelodeon animated television series of the same name.
A gang of 6 adorable, animated characters and their puppy attend an underwater preschool. The show is aimed at teaching young kids everything from music to recycling whilst having a whole heap of fun. Your kids wont even realize they are learning new words and concepts as they watch the show.
The characters are so very cute swimming around with their Guppy tails and they will soon become your children's favorite characters. As mentioned previously the gang of Bubble guppies is made up for 6 characters and their puppy.
The Bubble Guppies Characters are Gil, Molly, Goby, Deema, Oona, Nonny and Bubble Puppy as well as the fish character Mr. Grouper
Now you can get the three most predominant characters as the ideal Christmas gift for your kids in the form of a plush toy!. Co-hosts Gil and Molly as well as the adorable Bubble Puppy are now all available as Plush Bubble Guppies!
Plush Bubble Guppies are the adorable soft toy version of these characters. They are so cute and huggable with their little Guppy tails, your kids will just love them and will be delighted to find one as a gift on Christmas day as these plush toys are set to be the hottest seller for Christmas 2012.
Best of all not only are they extremely popular with the kids, they are very affordable with prices ranging from $10 – $25.
Nickelodeon Plush Bubble Guppies Gil
Gil is one of the co-host and acts as the second in charge (to the very cute Molly, who you will find a little further up the page) of the Guppies.
He has blue hair, blue eyes, and a green camouflage tail, he is a lot of fun as he has a very whacky personality and is always doing or saying silly things.
Gil is without a doubt one of the most popular and recognizable members of the Bubble Guppies
Theme Song
Nickelodeon Plush Bubble Guppies Puppy
Perhaps the most adorable of all Guppies is Gil's Puppy, Bubble Puppy!
Bubble Puppy has orange and white fur, with one eye sporting an orange spot around it and the other being white. Puppy also has a magnificent, wiggly, gold Guppy tail.
All Kids will love Bubble Puppy.
Around his neck he has a green collar on which hangs a yellow fish license!
Bubble Guppies Books
There are now quite a large range of Bubble Guppies books, many of which are published under the Little Golden Book publishers.
All of the books are educational, easy to read and loads of fun. Ideal bed time stories for kids.
Take a look below for some of the more highly recommended titles, some titles are sticker books as well as the usual Little Golden Books format
More Guppies Gear!
Looking for some cheap stocking fillers? There is a large range of accessories you can chose to complement your Nickelodeon Plush Bubble Guppies.
There is something for every child, painting books, coloring books with crayons, charms for bracelets, bags or shoe laces, to name just a few.
Bubble Guppies News
Tags:
mr grouper plush, Nickelodeon Plush Bubble Guppies
Most Popular Gifts
Recent Posts
Spotlight
Categories
Pages
Spotlight 2