Playskool Sesame Street Big Hugs Elmo – Christmas 2013's Most Wanted Gift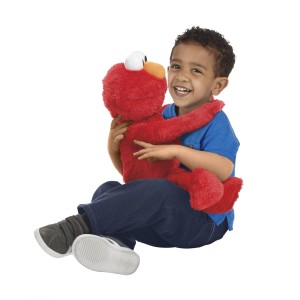 Elmos is back! and this time he wants Hugs!!
Big Hugs Elmo is set to be the most sort after Christmas Gift of 2014
This latest reinvention of Elmo is the cutest and most fun yet, your kids (as well as adults) will simply adore this plush toy.
This adorable toy from quality toy makers Hasbro, will warp his arms around anyone who gives him a hug and hug them back!
Images courtesy of Amazon
Sesame Street's Most Loveable Character Wants Lots of Hugs!!
Ask any child who has watched Sesame street who Elmo is and their face will light up as they relay exactly who this red friendly furry creature is and you will soon realize he was one of the most popular characters from the Sesame street kids television show.
Hug Elmo and he will hug you back, accompanied by sweet phrases and sometimes even a song about hugs.
This cuddly 22-inch lifelike Elmo has flexible arms and a soft head and is packed with adorable, features sayings, gestures and even sing sweet lullaby's or a song about hugs.
Pressing Elmo's left foot will see Elmo ask little ones to play along with one of 4 imaginative activities including playing astronauts, rabbits, frogs or horses.
When its your child's time to sleep or take a nap, simply lay Elmo down and he will become sleepy, sing a lullaby and make sleeping noises. To wake him up simply shake his leg.
Elmo has more than 50 animated sounds and statements such as "Elmo loves getting hugs from you," "Let's pretend we're rabbits! Boing, boing, boing," and "Move to the beat!"
Hang Elmo upside down buy his leg and be prepared to laugh at what he says.
Big Hugs Elmo Video
Your little ones will fall in love with Elmo, I mean who wouldn't fall in love with a toy like Elmo, I mean he hugs you! Hasbro have done a fine job in producing another quality Elmo doll.
Quick Features
• Hug your Big Hugs Elmo toy and he really hugs back
• Dance and sing with Elmo
• Move Elmo around and see how he responds
• Pretend with 4 fun imagination scenarios about astronauts, rabbits, frogs and horses
• Lay Elmo down and he gets sleepy and sings a lullaby
Where To Buy Big Hugs Elmo?
Where is the best place to buy the Hasbro Playskool Sesame Street LOL Elmo?
Well currently Amazon has them in stock here and the best price we have found.
Click the buy button below to learn more.
Sesame Street Big Hugs Elmo from Hasbro
Most Popular Gifts
Recent Posts
Spotlight
Categories
Pages
Spotlight 2