The Vtech InnoTab 2 Learning App Tablet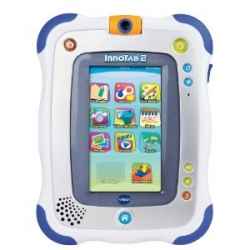 The Vtech InnoTab 2 Learning App Tablet is the ideal gift for your child this Christmas.
Suitable for children aged 4 – 9, this amazing kids tablet has many features of the more suited to adult tablets, such as games, rotating camera, music player, movie player, video camera, touch screen, inbuilt tilt motion controller and many other applications.
The units are designed with young children in mind, this means they are extremely robust and durable, whilst still looking quite stylish.
All of the Innotab's titles come with a major focus on learning, your kids will be so immersed in the fun of the games and applications, they wont even realize they are learning.
The Vtech InnoTab 2 Learning App Tablet really is the choice gift for Christmas 2013, every kid will have one of these and the fact that they are an educational toy, that will also keep your children entertained for hours on end is just priceless.
Who knew learning could be this fun?
Vtech InnoTab 2 Features
• Read animated eBooks using the touch screen, the Vtech InnoTab2 Learning App tablet virtually brings stories to life.
• Play games using the microphone, for example blow into the microphone to blow an in-game ship sail full of air and send it sailing across the screen.
• The touchscreen makes games like angry birds a lot of fun, send the birds flying with flick of your fingers cross the screen.
• Huge library of games, applications, eBooks and music featuring all the favorite children's characters, like sponge bob, toy story characters, cars, Disney characters, Thomas the tank engine, Scooby Doo and many, many more that are available on cartridge and also downloadable via the Innotab 2 itself.
• 360 degrees rotating photo / video camera means you can take video or photos of yourself or your friends.
• The Vtech Innotab also features motion control so for games that involve mazes, balls or racing simply tilt the device to play the game.
• 5 inch touch screen
• mp3 player
• Personalized wallpaper
• 2GB on board memory, 16 GB expandable (SD card required)
• Inbuilt tilt sensor allows for game play similar to the iPad / iPhone
Vtech InnoTab 2 – White
Vtech InnoTab 2 Learning App Tablet – White
The InnoTab 2 is a robust device that will take the mountain of punishment some kids can deal out.
Your kids will be learning without realizing it, as they enjoy the specially designed games and apps of the Innotab.
It comes in two colors, the white unit (pictured to the left and the more suited to some girls pink unit (see below))
Things To Do With the InnoTab 2
The Vtech InnoTab 2 Learning App Tablet, has a vast array of uses and things to do, to many to list here, but just to give you a brief idea we have listed some below.
• Take pictures or video of your and your friends, then play them back on the tablet.
• Listen to music via the mp3 player.
• Use any number of apps ie calculator, diary, calendar
• Read eBooks
• Develop skills in reading, spelling, maths, logic and creativity.
• Draw Pictures
• Record music
Vtech InnoTab 2 – Pink
Vtech InnoTab 2 Learning App Tablet – Pink
The Pink Innotab 2 is ideal for those little girls who just love pink!
Aside from the color there is no difference in the specifications or functionality of the unit.
Take a look at the video below, to see just how cute this unit looks as well as an in-depth look at the Vtech Innotab 2 learning app tablet features.
Vtech InnoTab 2 Cartridges
Once you have your InnoTab 2 you will want get some cartridges to further enhance your child's experience, enjoyment and learning.
Whilst the InnoTab 2 does come preloaded with some games and applications, you will soon want to get some more. Check out the best sellers below.
Accessories
The device does come with a few accessories ie two styluses, USB cable for charging and moving data to and from your pc, but you may want to consider the accessories below, in particular the car charge, power charger and sturdy storage tote to keep the Innotab 2 protected when not in use.
InnoTab News
Most Popular Gifts
Recent Posts
Spotlight
Categories
Pages
Spotlight 2